---
We check mental health with "thermometer of heart"!
Publication day: May 11, 2015 update
With "thermometer of heart" (person mode)
"Thermometer of heart" is system which can check stress and fall degree casually using cell-phone and PC.
Characters such as goldfish, cat swimming in water tank appear when we have you reply questions such as health condition and human relations, living environment and display your stress degree and fall degree.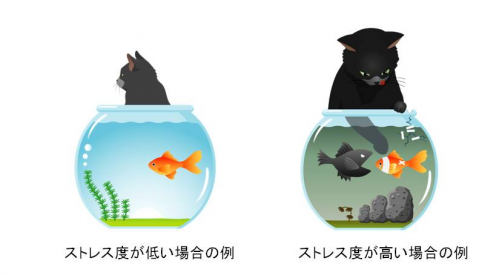 State of heart changes every day.
We usually check state and stress degree of heart, and let's prevent disorder of mental health.
"Thermometer of heart" has four modes elsewhere
Other than the person mode, we can perform the following checks.
・We can check health condition of heart of family mode ... family and person whom there is close.
・We can check health condition of heart of mom who is apt to become emotionally unstable under the influence of baby mom mode ... female sex hormone.
・We display advice according to the way of coping when we felt stress coping type test ... stress.
・We know what kind of influence alcohol check mode ... drinking has on heart of you and family.
Usage
・From PC, please access here.
・From cell-phone and smartphone, please use the following QR code.

Precaution of the use
・This system does not do medical diagnosis.
・Regardless of result, please consult with Specialized Agencies about curious thing and one that may be worry about health of heart.
・Use charges are free. But communication rate is paid privately.
・We do not acquire personal information at all. We use input information only as statistical data.