---
Public wireless LAN (cherry tree pal)
Publication day: December 11, 2014 update
Public wireless LAN
In "cherry tree pal in the city," we offer public wireless LAN service.
Own "smartphone" and "tablet" which everybody was used to are connected to the Internet using wireless LAN, and, here, they are available freely.
Setting facility
The setting facility name
Cherry tree pal (Niizominami, Toda-shi multi-generation interchange building)
Setting place
The second-floor hall, statement corner, book corner, meeting room
Use environment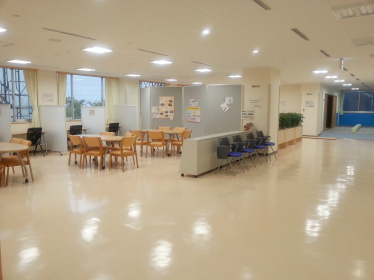 Use environment judging from cherry tree pal the second floor, entrance
Use use and instructions
Citizen's people bring in your smartphone and tablet, and public wireless LAN is environment having "search, reading, investigation into information" use on the Internet. (there is not rental of tablet PCs)
Mentions of "full name, address" are necessary after having you agree to "acceptable use policy" on the use, and having had you show "identification card".
As for the use, as for one use, it becomes just to twice a day in 1 terminal for up to 60 minutes to have many people use.
It may limit the use to have you use safely. Thank you for your understanding beforehand.