---
Photodiary July, 2018 of the mayor
Publication day: July 12, 2018 update

We inspected road station ichikawao on July 11, 2018
We had general interpellation in June about utilization of road station as base of city sales in assembly. At first we went to "road station ichikawa" in thing to the spot. Setting includes many problems, but, including them, will study for city sales, further development of Toda City generally.
We attended at the upper Arakawa water cycle center park entire surface opening ceremony on July 10, 2018
Maintenance of upper Arakawa water cycle center park repeated discussion in city and all of local residents and was able to invite long-awaited entire surface opening. In park, we locate multipurpose open space, athletic open space, natural observation forest, park golf course. We are glad very much if we can help as space of mental and physical refreshment and interchange and rest of citizen's everybody.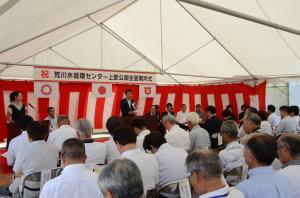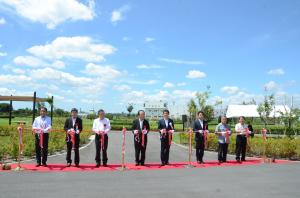 We received courtesy visit of Ryota Nakabayashi of the Asian Continent bicycle motocross championship third place on 2018 on July 9, 2018
Nakabayashi is player of one just notable push that we gain results of the third place in use 15-16 years old class of 2018 Asian Continent bicycle motocross championships for men and are played an active part as representative from Japan. It means that unfortunately it does not touch target age for Tokyo 2020 Olympics tournament, but we support way of his strenuous efforts and growth by all means and will expect majestic figure at the Paris Olympics in 2024.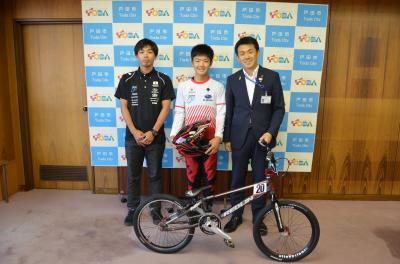 We participated in komparu Festival on July 8, 2018
Announcement and display of circle activity, various events including experience-based corner and refreshment stand were held, and vigor overflowed very much this year. When I heard performance of wind music and had you make delicious tea, we actually experienced and enjoyed event very much.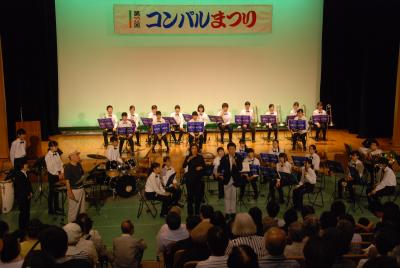 We participated in flood fire drill in Bijogi elementary school on July 8, 2018
We carried out this flood fire drill as broad-based training that plural voluntary disaster prevention society participated in. Heavy rain disaster has just occurred around this weekend, West Japan and thinks that participants assume real flood and might be trained. It is necessary to put power of all local, to be concerned with such as citizen's all of you, voluntary disaster prevention fair, administration together to realize town resisting disaster. We will realize town resisting disaster together.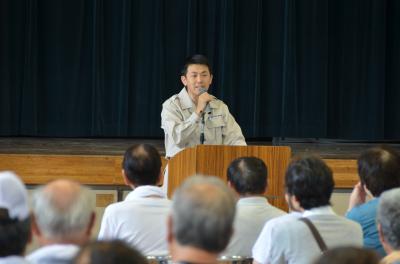 We participated in Sasame River Let's Pick Up! on July 7, 2018
Children and citizen's areas more than 70 including one participated while after holding cleaning event "Sasame River Let's Pick Up!" of the Sasame River, weather was worried about. With such an event, we are happy if we can have citizen's everybody feel our Sasame River closer. Everybody and people concerned who participated, thank you.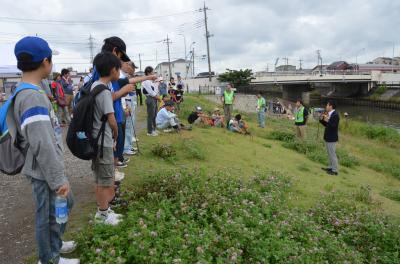 We accepted two people by junior high student social experience-based challenge on July 6, 2018
For three days of from 4 to 6 on July, two second graders of Todahigashi junior high school came to Toda City government office policy secretariat by social experience-based challenge. With the staff in charge of public information, public hearing, we learned work of coverage and the making of public information such as courses of city. It looked like a lot of first experience was tense, but expects that we make use of this experience and have you send junior high school life well in future.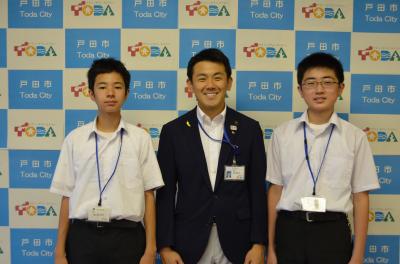 We publicized Toda City by staff of municipalities adoption combination briefing session in Saitama on July 5, 2018
We told visitors about thought that charm and I of Toda City hung in Toda City by staff of municipalities adoption combination briefing session in Saitama held in Saitama Super Arena. For motivation and flexible idea, we wait for Toda building the future with us.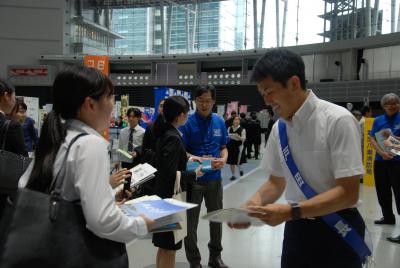 Exercise platform campaign to light society on July 2, 2018
We participated in "exercise to light society" that probation officers and all of rebirth protection woman society carried out platform campaign. This exercise deepens understanding about prevention of crime and delinquency and rebirth of people who committed a crime and aims at putting power together in each situation, and making bright society. Myself will take the lead by this exercise so that crime and delinquency disappear from society.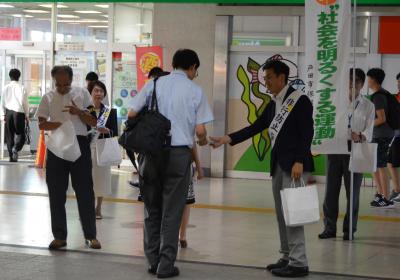 July 2, 2018 all day long nursery staff exercise
We experienced nursery staff all day long in spirit nursery school (Niizo). This is intended that we understand role of nursery school other than improvement and skill up of consciousness for child care by participating in childcare in business that Saitama nursery staff society carries out.
We spent fun time such as work and picture-story show, lunch with cheerful full children who were my child and classmate. Through this valuable experience, we may connect to improvement of child care support project in the future and a variety of childcare services.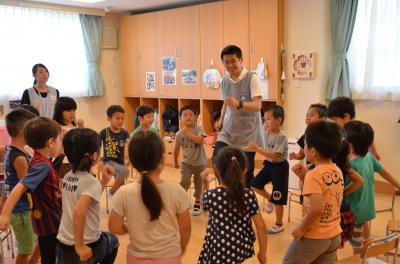 July 2, 2018 deputy mayor inauguration ceremony
We received approval in assembly in last June, and Jun Akiyama took office as deputy mayor on July 1.
There were reassuring words, "we planned communication and got united with the staff and wanted to support Mayor Sugawara" in inauguration ceremony. We will push forward municipal administration administration in solidarity in the future.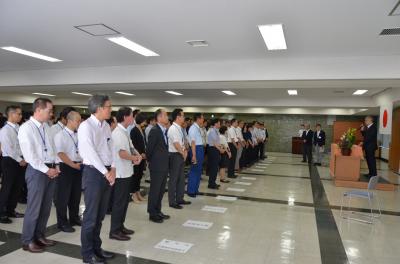 We participated in the ceremony of leader at Toda City child society workshop opening of a course on July 1, 2018
Opening of a course-type, leader cadet of child society chosen among child society of each district, fifth graders gathered. We are active with new friend and, in this training, expect that we polish nature as leader including power to make power, plan to adjust opinion of leadership settling group and various person to, and to carry out concretely and grow up.